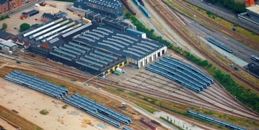 Client
Hitachi / John Laing
Business Need
Evidence the capacity and resilience of a new rail depot and produce a re-usable facility model
THE CHALLENGE
Our client required independent verification that a proposed design for a new maintenance depot could meet its contractual requirements. They also required a more detailed understanding of how the depot would actually operate in a variety of circumstances.
Frazer-Nash was commissioned to review the proposed layout and determine whether the depot design was sufficiently resilient to receiving disrupted trains coming in, and yet still deliver trains back out onto the network without impacting upon the operator's ability to meet their scheduled time plan.

OUR SOLUTION
We began by developing a software model which scheduled the expected arrival times for the fleet, along with the work requirements for each individual train. This would assess whether the depot was capable of carrying out the necessary work, without delaying the departure time of the trains - taking into account all the conflicting activities.
This is a complex multi-dimensional problem, where conflicts can easily be disguised by the amount of different parameters that change throughout the analysis. However, this model (developed in Excel for ease of use and low licensing cost) presents the results in a range of user-friendly formats - even animating the activities to demonstrate exactly how the depot will operate.
The model was also used to replicate a range of specific nightly workloads to determine that the proposed depot would be sufficiently resilient to meet both routine and exceptional network demands, as well as quantifying the maximum amount of additional work that the depot could support if required.

RESULTS
The model highlighted areas where the depot could be developed to provide even more capacity, as well as those areas where cost savings could be made without compromising the depot throughput. Overall, the Frazer-Nash model provided verification that the depot could not only achieve its contractual performance levels, but remain resilient to a range of disrupted inputs and additional workloads. The customer was able to approve the investment needed with confidence.