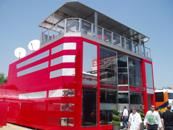 Client
Confidential
Business Need
To design a hospitality suite within the Formula 1 regulations for pit lanes.
THE CHALLENGE
Competition in the Formula One pit lane is almost as fierce as it is on the track, with F1 teams striving to outshine their rivals with the most stylish innovations and engineering technology. With this in mind, Frazer-Nash were tasked to design and develop the biggest hospitality suite yet to be conceived, with the flexible functionality of a much smaller structure.
We were tasked to design a luxurious, yet completely mobile hospitality suite, that balanced the ambitious requirements of our client (including air conditioning ducts, audio visual and electrical connections, and two bars), with the stringent Formula 1 regulations. These require any system built must be able to be marshalled, constructed and dismantled on all Grand Prix pit lanes, within one day and without encroaching outside of the 15m x 17m allocated area.
Another issue was the 'feel' of the structure under foot. The client wanted a stiff 'building' like feel to the floors, yet the structure had to be light enough for the 80 tonne metre crane which sits on the back of one of the trailers. Our challenge was to turn the concept into reality, including the detailed design, structural calculations, optimization for weight, plus management of the building manufacture.
OUR SOLUTION
We began by establishing a multi-disciplinary project team of designers, structural engineers, and fluid & thermal analysts who would manage the project from concept to completion. The completed project comprised a 255 square metre, split level modular 3 story structure that could be assembled and disassembled in half a day.
The suite was manufactured to the highest specifications, and set new standards in size and luxury among Formula One teams. The aluminium alloy skeleton was stressed to withstand winds of 60mph whilst facilitating large crowd loadings. The interfaces were of the highest precision to enable fast assembly to the desired quality. Climate control was a significant complexity and used our experience in thermal enclosure design to design the air condition system which ensured the suite could be cooled to 20 degrees inside, whilst withstanding an outside temperature of 45 degrees.
The design team utilised their experience within the aerospace sector in terms of precision engineering to ensure it could be assembled and disassembled with pin-point accuracy at every Grand Prix race.
THE BENEFITS
The hospitality suite was unveiled at the 2007 Barcelona Grand Prix and elegantly mixed luxury and style with precision engineering. The project was delivered on time, and on budget, and satisfied the stringent Requirements of the Formula 1 regulations.