Post-lockdown uncertainty: modelling tools to help you plan a safe return to full capacity
Do you have the knowledge and expertise to help your business return to full capacity?
Or do you have critical one-off activities such as an outage, turn-around or major maintenance intervention that will be particularly challenging to deliver under social distancing restrictions?
Our modelling and visualisation service gives clarity to complexity…
At Frazer-Nash, we're ready now to help you return your complex working environment to normal – helping you kick-start your revenue stream and return capacity to your operations – whilst continuing to keep your workforce safe.
Modelling your working environment and working with you to plan for the future can deliver significant value to your business. Our people bring not just modelling and visualisation expertise, but in-depth understanding and experience of engineering environments across a wide range of sectors – from the control room to the factory floor, from the depot to the track-side.
Working collaboratively to deliver success…
Working collaboratively with you – and incorporating your employees' great ideas and suggestions – will enable us to model a range of scenarios that help provide insight and direction, enabling you to make confident and timely decisions.
We know that every business is different, and that there's no single 'one size fits all' solution. For example, you may have uncertainty about how long tasks will take under the new lockdown guidelines, and have a need to do things differently. Or you may need to re-configure your working practices to allow for social distancing and/or practices that enable close working; whilst keeping your team safe and well.
By working with us, you can experiment with different approaches and quantify their theoretical impact before putting new ways of doing things into place. And we can work with you to help communicate change and implement your new working practices.
Need to know more?
Please call John McHugh on +44 (0) 333 032 9500 or email frazer-nash@fnc.co.uk.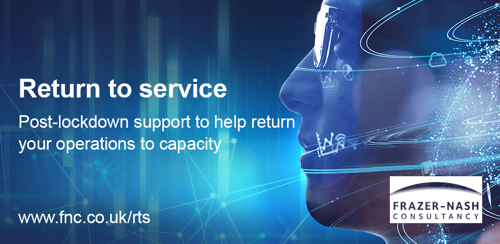 Preparing for the 'new normal': more information on the benefits of modelling and visualisation
Over the next few weeks the lockdown will lift, and more people will return to the workplace.
There are a few different challenges that employers will have in making this work. Social distancing in the workplace needs to be considered, PPE requirements will affect how and when tasks are done, additional cleaning routines may need to be introduced – the practical rules for how to run a workplace have changed since the start of the year.
In all likelihood, the guidance and rules will keep on changing as we understand more about the virus, the mechanisms for transmission, who is most likely to be affected, and how people's perceptions of the virus and risk associated with it changes their behaviour.
These are all factors that need to be taken into account when planning tasks for people in the workplace, whilst managing the risk from coronavirus.
Our Systems Approach provides insight, and a set of tools for working out how to approach this.
For example:
How much space do you have in the workplace; will social distancing be easy to implement?
Considering the full journey for your staff to get into the workplace, where are the shared spaces, tools and facilities in the workplace?
Can you bring in additional pieces of equipment to reduce transmission via 'hot desking' or sharing tool sets?
Does your workplace timetable force people to do the same thing at the same time, and if so, how can you change this?
How can the use of communication technology reduce the need for moving between different zones in your workplace?
Which tasks require more than one person to be conducted safely?
Can you operate at a reduced capacity and learn as you go? You and your staff will get confidence from having worked with social distancing and you will iron out problems as the need arises.
We can help you in thinking about how you solve this problem, using issues including those below:
Operate at a reduced capacity and increase as you get confidence
Train and encourage all staff to wash their hands regularly
Clean shared spaces regularly
Separate out the tasks that have to be done at the workplace from those that can be done remotely
Get people to work at an increased distance from each other
Get people to spread their work out in time with different shifts
Use PPE where tasks cannot be separated
Be creative in how you get the value from vulnerable members of the workforce
Be open about the measures you are taking to reduce the risk for everyone.
In many instances, there will be uncertainty about how long tasks will take under the new rules. In some cases you will need to do things differently, you know your plant well, and your staff can help with different suggestions. In particularly complex environments, or for time critical tasks, we can help you by modelling how to undertake your normal tasks in ways that increase social distancing without minimising productivity.