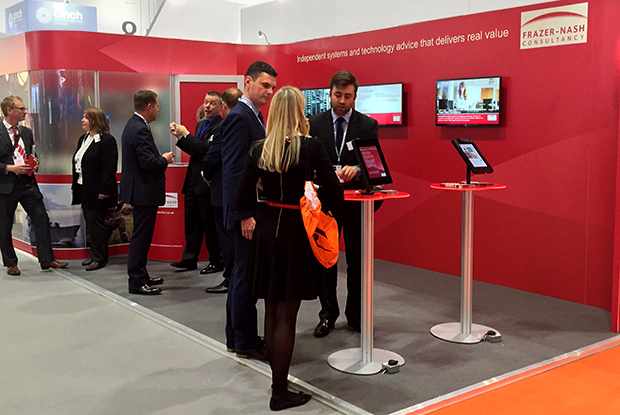 Frazer-Nash Consultancy staff judged the recent Defence and Security Equipment International (DSEI) exhibition to be 'an excellent showcase'.
Exhibiting at stand S4-360, Frazer-Nash found the event invaluable for meeting contacts, viewing supplier offerings, and sharing its human factors expertise in a presentation by specialist, Ryan Meeks.
There were over 40 international pavilions, featuring companies from countries spanning four continents - from the USA and Brazil, to Australia, Malaysia and Latvia. Exhibitors were showcasing products ranging in size from tiny ceramic castings to massive armoured vehicles, and as diverse as hypothermia protection suits and cyber security tools. Bill Hodson, Frazer-Nash business director, said: "DSEI gave us an excellent showcase, at a vital time for the defence industry."
Ryan Meeks' presentation on 'Insider Attacks' on Thursday 17 September was very well-received. A highly-engaged audience attended the Security and Special Forces Theatre for 'Learning Lessons from Afghanistan to Counter the Future Insider Threat', with Ryan answering a number of interesting questions.
Nick Ealey, business manager, submarines, said: "This year's DSEI was massive, and a great chance to meet lots of tier two companies feeding into the submarines area. It's good to talk to a range of SMEs, to find out what they do, and to tell them about Frazer-Nash's offering - particularly our transversals experience, in areas such as integrated logistics support and human factors, which they may not have the capability to offer to their customers."
Neil Hunt, Frazer-Nash Consultancy business manager for surface ships, said: "DSEI offers the opportunity to have very focused discussions, and we were able to have particularly valuable conversations with small and medium-sized companies, where we have capabilities and skills that they don't have in-house."
Tony Marsh, business manager, land and joint said: "DSEI is the sort of event where you get out what you put in - and we put in a lot of effort. We were able to meet everyone that we hoped to meet, and a few extra too!"