Anna Will, a Consultant within the System Design and Management team at Frazer-Nash, has been selected as a finalist for the Institution of Engineering and Technology's (IET) Young Woman Engineer of the Year Awards 2021.
The main aim of the award is to promote engineering as a career for women, to help address the gender imbalance in the sector.
Managing Director, Neil McDougall said:
"This is an outstanding achievement for Anna, and we are really proud of her. Not just for making the final, but also for having the courage to put herself forward as a role model for young female engineers.
"Anna is involved in a broad range of technical multidisciplinary projects at Frazer-Nash, leading our medical technology campaign and previously leading our asset management service offering. She sets a benchmark when it comes to promoting STEM to young people – attending events at schools and universities, as well as undertaking individual mentoring of other engineers.
"Anna was also the Project Manager for the Wheels of Change Project with charity Whizz-Kidz – helping to design and build a wheelchair unlike any other. Enthused by the project and the children it supports, Anna was one of three Frazer-Nash employees to organise and enlist a team to undertake the London Marathon; raising a substantial sum in donations between them for the charity."
Commenting on becoming a finalist, Anna said:
"I'm so excited to be a finalist for this year's Young Woman Engineer of the Year Awards, and to help encourage others to pursue a career in engineering
"It took some convincing for me to study engineering when I was at school as I felt it wasn't for me, but I know that landmark projects like Wheels of Change and having more visible female role models would have really inspired me'
"Engineers will be the ones to solve the big global challenges our society faces today, and in order to come up with the best solutions, we not only want, but actually need, more diversity in the sector."
Frazer-Nash will be sponsoring the awards again this year, where three prizes will be awarded on the night – the Young Woman Engineer of the Year Award, the Mary George Memorial Prize for Apprentices, and the Women's Engineering Society Prize.
Alongside Anna, the five other finalists are:
Dr Ciara McGrath (30), a Lecturer in Aerospace Systems at the University of Manchester
Dilani Selvanathan (22), a Junior Software Engineer at Herotech8
Eftychia Koursari (35), a Senior Civil Engineer at Amey Consulting
Lauryn Jayes (23), a Building Services Engineering Apprentice at Arup
Nipuni Karunaratne (28), a Digital Technology Model Factory Manager at Rolls Royce Plc
The winner will be announced at the IET's Young Woman Engineer of the Year Awards ceremony on Thursday 2 December 2021. For more information, visit https://youngwomenengineer.theiet.org/.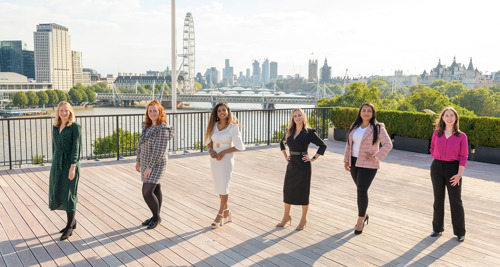 Anna, far left, pictured with the other Young Woman Engineer of the Year Awards finalists