Donning company branded t-shirts and snapping their best selfies, colleagues from up and down the UK came together to celebrate Pride this week. A schedule of curated content, led by the company's diversity and inclusion team, went down a storm with staff.
Featuring hearts filled with differing and distinctive Pride flags, the Frazer-Nash t-shirt celebrated diversity. With each heart representing a different group, gender, or identity within the LGBTQ+ community, they were a catalyst for learning and provided an opportunity to discuss what each of the flags symbolises.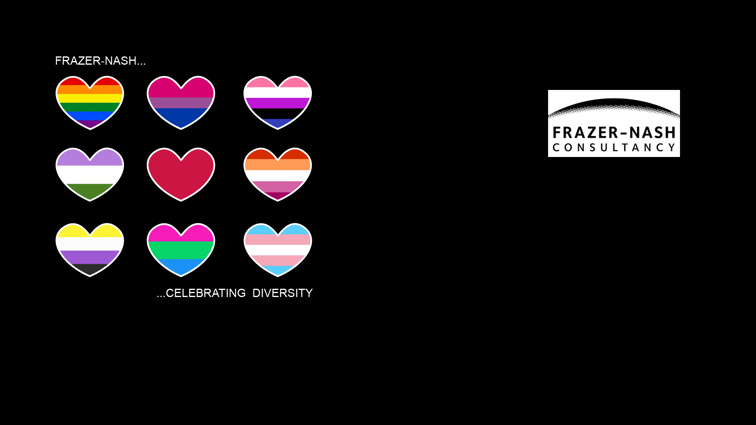 The week unfolded with stories of personal Pride experiences shared by employees, video montages from those recounting their first Pride parades, a look back at the history of Pride, selfies and family shots submitted to a Pride photo gallery, Pride picnics in local parks, and some exceptionally special videos courtesy of the Brighton Gay Men's Chorus.
Whilst most employees continue to work from home, all were encouraged to engage with the wealth of resources shared through the company's intranet pages, and many did – with a flood of positive feedback received in response. One team arranged their own meeting to discuss the various flags featured on the t-shirt design, educating those unfamiliar with the variations, which many found extremely useful.
One employee, who is a proud member of the LGBTQ+ community, commented:
"It's truly great to celebrate Pride 2021 with Frazer-Nash. I'm so grateful to work for a company that respects and celebrates self-identity and inclusivity."
Frazer-Nash prides itself on its company values. In relation to Pride, the most pertinent values 'we care' and 'we want to do things that matter' really resonate. The company continues to strive to foster a community of inclusion and acceptance for all staff, where respect and diversity are encouraged above all else.
Below is a selection of some of the pictures sent in with colleagues wearing their Frazer-Nash t-shirts with pride!