Committing to a credible long term decarbonisation strategy poses a significant challenge for any large or complex organisation. It requires questioning basic assumptions about the way we work, the assets that we need, the way we prioritise, and how we exercise our influence in the wider economy.
This level of transformation is uncomfortable, it can only be delivered if the organisation is completely confident of the need for change, and how to achieve it. If the understanding and expertise is concentrated in just a few individuals, this will not be enough. There must be a critical mass of decision-makers who can drive the change, and this requires training.
Without effective training, the best case scenario is that defence will fail to deliver on its net zero objectives due to a lack of people capability. At worst it will also fail to realise the capability benefits offered by decarbonisation, meaning it would lose its competitive edge on the world stage. Developing the right capabilities through training will be a fundamental part of making the sustainability transformation successful.
This blog explores how Frazer-Nash's approach to organisational learning can support the defence sustainability challenge.
People capability
While equipment, systems, procedures and policies can be supplied and enacted; at the heart of any successful transformation programme lie the people required to deliver the transformation. In developing those capabilities, the Ministry of Defence is fortunate to possess a robust Defence Learning Framework to ensure its education and training supports defence outputs. It achieves this through the Defence Systems Approach to Training. Not every company will have the same resources to deliver training at scale; however, the principles can be applied to any organisation.
These principles are illustrated by a simple model that shows how education and training solutions can be successfully created to support the improvement in people performance. Where wholesale organisational transformation is required, this 'systems approach' becomes even more important to ensure the sustained delivery of organisational objectives.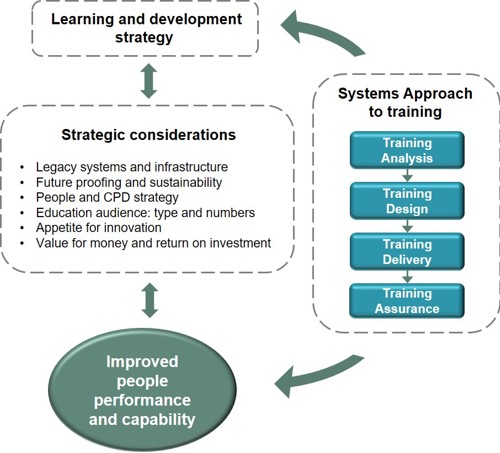 This approach highlights the need for alignment across a range of other factors. In defence terms, this is recognised through the Defence Lines of Operation, where the impact of decisions on objectives, equipment and capability are scrutinised across multiple functions and domains.
Earlier episodes of this blog have highlighted some of these aspects, including cultural change, technological shifts and preparedness. This is by no means an exhaustive list but serves to demonstrate how important it is to understand organisational context and the implications for education and training solutions.
Turning context into content – the simple steps to identifying your requirement and delivering the right solution
Understanding the strategic context of a training programme is of course, crucial.  Therefore the choice of training provider, and the quality of engagement with them, matters. Next, remember some simple points to move from your strategic brief to a fully-fledged training solution.
It is all too easy to fall into the 'solutioneering' trap whereby we identify what we think the training output will look like without stepping back and considering the problem first. We find that asking the simple questions below is a good starting point to the development of successful training solutions.
Who? Identify who you want to be trained
What? Understand what you want people to do and to know
How? Identify how you want them to operate
Why? Be clear about why you want them to do it
Mind the gap. Identify the gaps in knowledge, skills, attitudes and experience
Your solution? Decide how you will educate or train your people
Your strategy? Ensure your solution is aligned to your strategy
Delivery? Design and deliver your solution
Success? Check that your solution works.
The challenge for defence
Huge advancements in sustainability will take place across defence and industry in a small number of years meaning that defence could easily be left behind.
Opportunities will come quickly and at all levels in the organisation. Defence will not only need to ensure that its personnel are trained in advance of technology shifts, automated tools and sustainable procurement practices, it will also need to embed sustainability thinking, innovation and collaboration with wider industry in its leadership to make the best decisions over the coming decade.
This will require time-sensitive critical decisions around the provision of training and a strategic commitment on the part of defence to ensure all its people receive the right training at the right time. This can only be realised through an organisational level approach that combines clarity of purpose and intent, backed up by the allocation of resources to develop and deliver the transformative training necessary to achieve the required capabilities across defence.