The key to your optimised asset management plan is understanding the condition of your asset from design and manufacture, during operation, through to disposal.
Data is a vital component in developing this understanding. Until recently, asset management software used data that was collected and entered manually, for example through regular visual inspections. The advent of smart digital technologies has provided a game changing opportunity that will help you to greatly enhance your asset management activities.
Our new service, MADE – managing asset degradation in the environment – aims to exploit these new technologies, delivering a smart corrosion management process to monitor your assets from cradle to grave.
MADE implements digital solutions through six main data elements: creating, extracting, storing and analysing data to provide insight and smarter decisions.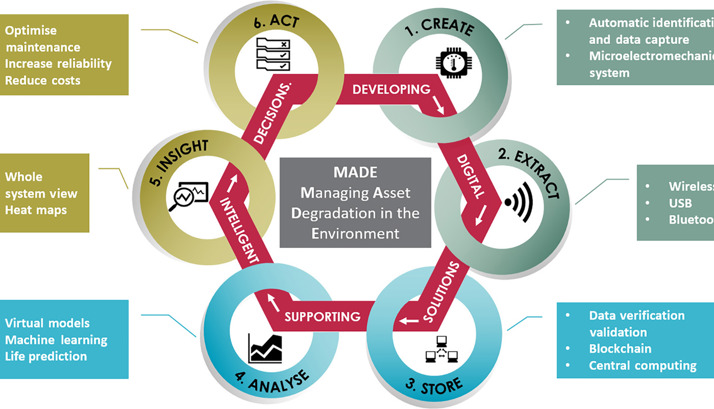 The core requirements of MADE, for example when applied to an offshore development are:
Association – collect natural and mechanical environmental data that is associated to an individual asset or location on the asset
Modelling – create a digital twin to model the corrosion threats on the assets across the site to determine current condition and predict future health
Managing – maintain a continuous and seamless strand of information on the asset through life, a 'digital thread'. This enables data on the corrosion condition of the asset to be related to function and performance of the site overall.
Through MADE, we can recommend and implement bespoke digital technology solutions that enhance your existing asset integrity management plan and enable you to make the most of benefits offered by the smart technologies of Industry 4.0. Discover how you can harness the benefits of Industry 4.0 here.